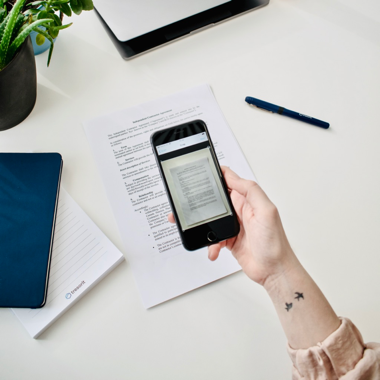 While it's hard for us to imagine working without our laptops and smartphones, there are still many occasions when we turn to old-school methods. We review printed contracts and write to-do-lists and meeting notes on writing pads, whiteboards, or sticky notes. However, digitizing analog information can be cumbersome and unsafe. Whenever you take a photo, you unwittingly place a middleman in the process which makes digitalization unsecure. This is where the Tresorit Document Scanner can help.
With the Document Scanner you can securely scan and upload documents in scanner-quality to Tresorit. Once you have uploaded the documents, you can securely share them with colleagues and partners straight away.
When to use?
Upload confidential documents

Your teams work with confidential contracts, which need to be signed in a paper format. Document Scanner lets you securely upload them to the cloud without any copies being made on devices.

Notes and meeting memos

Whatever you create during a meeting; sketches on a whiteboard or notes on a piece of paper, just simply scan with the Tresorit mobile app and it will automatically upload it to the cloud. Files can be shared instantly with the other participants.

Receipts and invoices

Scan your receipts and invoices after each purchase and Tresorit will upload them to the cloud in an encrypted format. Files can be shared immediately with your finance team or accountant.

Transfer analog data

There are times when you need to send a photo of your ID or passport for legal, visa or other official purposes. With Tresorit, you can scan your sensitive documents and share them securely without the use of an unsafe middleman like your phone's storage or email provider.
"Tresorit simplified a lot our internal processes and helps us to collaborate with our clients easily, while reassuring them that their data are handled in a compliant way. There is no excuse for anybody not to use Tresorit."

Montserrat Corominas

CEO of Intergroup Partners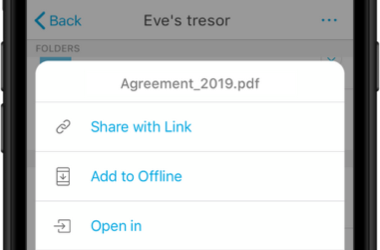 How does Document Scanner work?
Take photos your work with the Document Scanner on your Android or iPhone device.
Document Scanner automatically detects the document's edges and uploads the file to your Tresorit right away.

Tresorit never saves copies on your device so it won't be uploaded to a non-privacy focused cloud service.

The scans are encrypted on the device and uploaded immediately to the cloud.
Securely share with colleagues and partners straight away.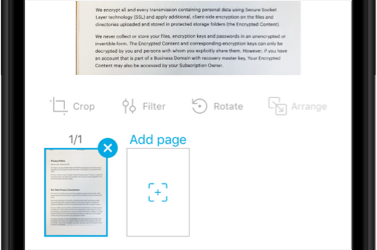 Components
Auto crop: automatically detects the edges of a document or a whiteboard.
Multipage pdf: allows you to scan multiple pages and save them as one PDF.
Quick edit: you can instantly rotate, crop or enhance your photo with the quick-edit filters.
End-to-end encryption: your scans are encrypted straight away on your phone and stored securely in Tresorit. Nothing is ever saved on your device.
Advanced sharing: scanned files can be instantly shared with secure, encrypted links that can be further protected by a password, expiration date and open limit.