Tresorit to offer global data residency options for businesses

Today, we are excited to share that we will soon roll out a new, highly requested feature; data residency options in the US, the UK, Canada, Ireland, Germany, Switzerland, France, Singapore, the Netherlands, Dubai, and Brazil for our business customers. This will make it significantly easier for companies to comply with sector-specific regulations mandating data storage within the borders of a specific country.  

Businesses face increasingly complex regulatory requirements when it comes to data storage. Certain sectors are still bound to hold data within borders which impedes them from reaping the benefits of cloud-based solutions. Others, such as those based in the UK, have to prepare for an uncertain situation with Brexit around the corner. To help companies meet residency and compliance requirements, we will enable our enterprise and business customers to securely store files in the country of their choice.

In addition to our current servers located on highly secure Microsoft Azure data centers in Ireland, we will make new data residency options available. New locations, which are available upon request, include the UK, Canada and two regions in the US (Virginia and California). German, Swiss and French customers will also soon have the possibility to store their data locally in Microsoft's upcoming cloud regions in Germany, Switzerland and in France. And we also have the options of Singapore, the Netherlands, Dubai and Brazil available. This feature is especially interesting for organizations handling sensitive data such as finance, legal or healthcare companies, as these sectors often prefer or are required to store data within borders.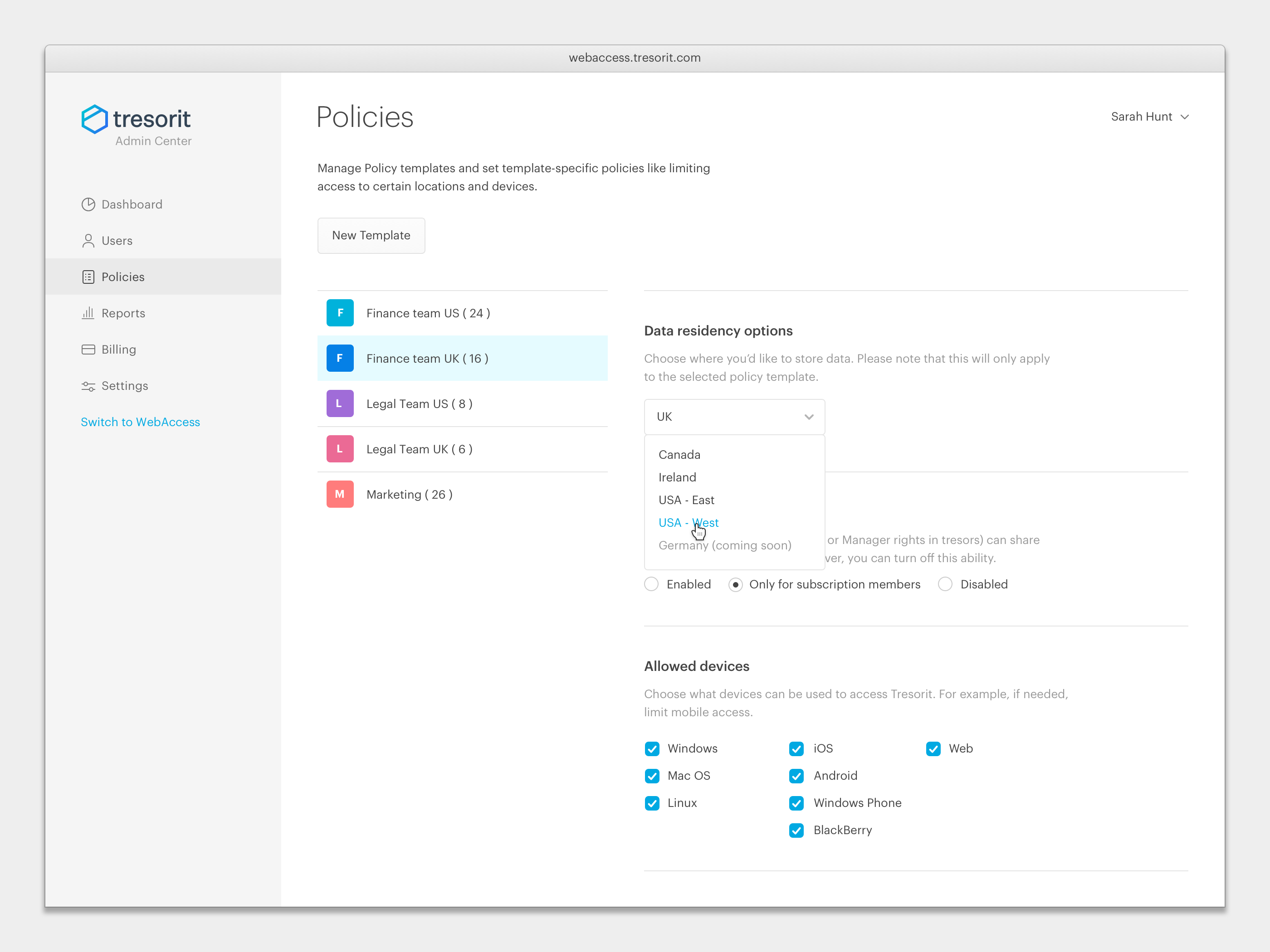 By making this choice available, we will help businesses satisfy company policy and industry or geography-related requirements for data storage location. Organizations with offices around the globe will be able to keep their data in multiple countries while ensuring frictionless collaboration among teams. No matter the location, the data will stay encrypted, from end-to-end, at all times.
Interested to know more about how Tresorit's Data Residency Options can help you ensure compliance?