We help teams collaborate securely and easily by protecting their data with end-to-end encryption.
Why we're building Tresorit
At Tresorit, our mission is to give you full control over your data. So we built a solution that shields your information – whether you decide to keep it to yourself or share it with the world.
Our values - We value privacy as a human right.

The right to privacy can be lived in multiple ways: Here at Tresorit, we endorse equality, inclusion, individuality, and a culture of acceptance.

Our Mission - We encrypt everything to know nothing.

The mission of Tresorit is to protect privacy and confidential information by offering enterprise-grade security and compliance thanks to our end-to-end-encrypted productivity solutions. To make both internal and external collaboration seamless and secure, companies can rely on our wide array of advanced security and admin features.

Our Vision – We empower people to take control of their data.

We understand that in today's connected world 'getting the job done' requires constant communication with external collaborators. Managing this process efficiently is a key component to success.
Our vision is to empower all in getting back the control over their digital valuables, regardless from the form of work they choose to follow. We believe that secure tools should seamlessly fit into workflows. Our goal is to keep Tresorit as simple as possible, so that people can stay secure without having to learn new ways of doing things.
Our story
Our story started when Istvan Lam, at the age of 12, received his first cryptography book as a gift from his family. It sparked his interest in cybersecurity and led him to start his fight for digital privacy in his late teens and research cryptography further. Ten years later in 2011, he founded Tresorit with two other university students and the head of a leading IT security institution. Since then, Tresorit has grown into a company bringing secure collaboration to teams all over the world.
120+

top talent engineers & marketers in our offices

12,000+

organizations use Tresorit

193

countries where people sync files with us

3

patents on encryption key management

1,5+ million

lines of code in our apps

3

DefCons with our white hat hackers
Award-winning security
Zero-knowledge means we can never read our users' files. End-to-end encryption guarantees that any information, personal data, intellectual property, or confidential business files stay private and secure.
Milestones in the history of Tresorit
January

Tresorit was awarded the pioneering Swiss Digital Trust Label, that helps users check if a digital service or app truly is trustworthy

2023

September

Tresorit announces Tresorit eSign – the Simple Electronic Signature (SES) solution for secure contract management

April

Tresorit launches its new email encryption solution to help secure emailing and protect confidential data with end-to-end encryption

2022

July

Tresorit's majority of stakes is acquired by Swiss Post

April

Tresorit introduces a set of features that adds an extra layer of security on external collaboration

2021

October

Tresorit is named as the 2020 Gartner Peer Insights Customers' Choice for Content Collaboration Tools

July

Tresorit launches its first podcast, Under CTRL, to raise awareness on cybersecurity

April

Tresorit joins the fight against COVID-19 with free access to remote work solutions for public education and healthcare institutions

2020

March

Tresorit improves its governance feature set with e-mail verification and detailed user reports

2019

September

Tresorit raises €11.5M Series B funding

May

The EU's general data protection regulation (GDPR) enters into force

January

Tresorit receives ISO 27001 certification, further demonstrating our commitment to information security

2018

December

Tresorit publishes its first transparency report

2017

October

Tresorit announces its NGO initiative to support activists

2016

2015

December

The hacker challenge is closed. Over 100 teams attempted to break our encryption, but none succeeded

2014

April

Tresorit launches its first public version and $50,000+ hacker challenge

2013

2012

2011 April

Tresorit is established by Istvan Lam, Szilveszter Szebeni and Gyorgy Szilagyi
Our founders
Istvan Lam, Szilveszter Szebeni and Gyorgy Szilagyi started Tresorit while still at university. They didn't trust mainstream file sync apps and decided to create a service with end-to-end encryption at its heart.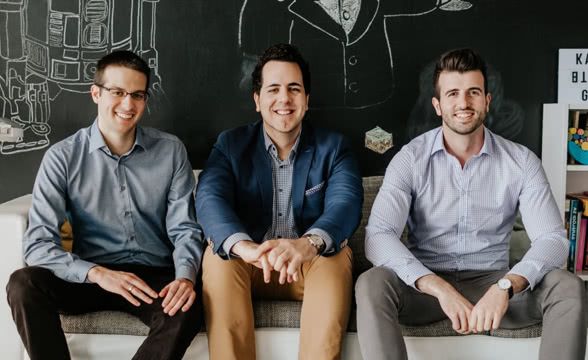 For journalists

Press releases, articles, our press kit & more.

Visit newsroom

Careers

Would you like to work with us? Can't wait to hear from you!

Explore jobs

Contact us

Do you have questions? Get in touch with us.

Learn more