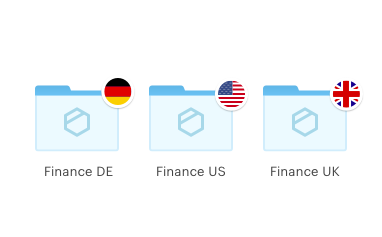 Data protection has been a hot topic for a while now. Not just because organizations collect and produce vast amounts of data which presents a target for hackers, but also because of the increasing number of regulations with stricter requirements than ever before. A new trend has surfaced in recent years as government-issued regulations began putting a heavy emphasis on how to manage personal data storage on a regional scale.
Tresorit provides data residency options to help companies satisfy company policy or industry and jurisdiction specific regulations. Organizations with offices around the globe can keep their data in multiple countries, while ensuring frictionless collaboration between teams. Users can be assigned to data centers, guaranteeing that they will only be able to keep their data where they are supposed to.
When to use?
List of regulations that mandate storing data within the region's border

GDPR: General Data Protection Regulation, relevant to all EU states
CCPA: California Customer Privacy Act, relevant to the State of California
DPA: Data Privacy Act, relevant to the United Kingdom
FinIA: The Financial Institutions Act is relevant to financial institutaions seated in Switzerland
HDS: The Health Data Hosting is relevant for personal health data governed by French laws.

Companies with offices in multiple countries

Tresorit admins can assign users to data centers so that they'll only be able to keep data in the selected location. Collaboration will remain frictionless between teams, even if you select different data centers for them.
With an impressive array of security features Tresorit is helping us achieve GDPR compliance coupled with excellent usability making deployment straightforward

Ian Wheeler

IT Manager of 4 New Square
How do Data Residency Options work?
Select the team policy for which you'd like to change the data center.
Select the data center where you want them to keep data.
Save changes.
Available regions
Ireland
UK
USA - East
USE - West
Canada
Germany (coming soon)
Switzerland (coming soon)
France (coming soon)