Tresorit vs. ownCloud:

Why choose Tresorit?

Tresorit gives you maximum control and security without compromising ease of use.
Trusted by 12,000+ organizations worldwide
Stay in control of your files with Tresorit
Tresorit is a Swiss content management and collaboration solution that uses patented, end-to-end encryption to facilitate the secure sharing, managing, and controlling of valuable data both inside and outside organizations. With Tresorit, your content remains end-to-end encrypted throughout its lifecycle – whether you share it with external partners or internally with your team.
Because we believe that everyone deserves maximum privacy and security, our zero-knowledge end-to-end encryption is built into our software – it is not and will never be an add-on for an extra price.
Price

From /user/month when billed yearly

€13/user /month*

Built-in end-to-end encryption

Secure file sharing

Limited

Granular access controls

Outlook and Gmail integration

Outlook only

Real-time collaboration

Not possible with true E2EE

Only when E2EE not enabled

File requests

Yes

Yes (file drop)

Email encryption

SSO integration
*when hosted on ownCloud's servers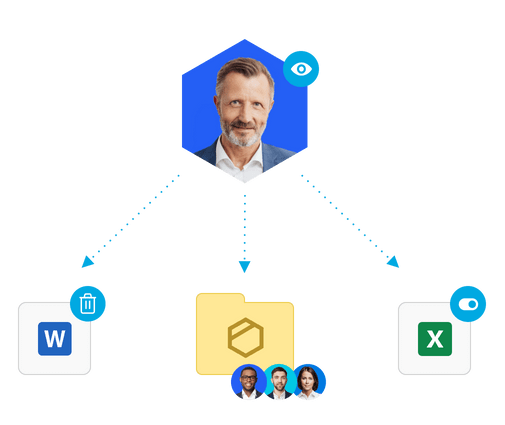 Ultra-secure by design
Our zero-knowledge,
client-side end-to-end encryption
is baked into our products. All data that you store in Tresorit is end-to-end encrypted on the client-side.
This technology ensures that no one, not even us, will be able to access your files – unless you decide to share them.
You don't need extra antivirus solutions or ransomware protection – outsiders can never access your files anyway.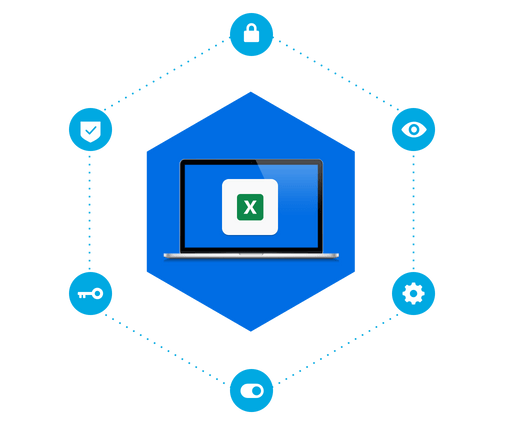 Easy to use and deploy
We know how demanding admin tasks can be, so we designed Tresorit to make admins' jobs easier. Our Admin Center offers one central place for managing your business subscription and maintaining control over how employees use Tresorit. You never have to pay extra to use our integrations, and there are no hidden costs. You also don't need advanced knowledge to install and deploy Tresorit.
Integrates effortlessly into your daily work
Tresorit slots seamlessly into your workflows. Our software
is designed for ease of use
for users and admins alike.
Tresorit is available for all major desktop and mobile operating systems as well as through your browser, enabling you and your team to work securely from anywhere, anytime.
With Tresorit Drive, you can work directly in Tresorit from your file explorer or Finder, and sharing your files is simple with our plugins for Outlook and Gmail. We also offer SSO integrations with Azure AD, Okta, and Google Workspace.
Maximum security at all times - without hidden fees
Tresorit is ultra-secure by default. There's no add-on you need to pay extra for, no separate charges – all the work you do in Tresorit is protected by our patented end-to-end encryption technology.
When you're using Tresorit, your content is protected by our zero-knowledge end-to-end encryption by default, which means that no matter what you do, your files are as safe as they can be.
ownCloud offers end-to-end encryption for their Enterprise customers through a plugin and is only available for self-hosted implementations. This can mean a massive amount of extra cost for a large organization.
With Tresorit, there are no hidden fees. You don't have to deal with hosting and financing your own servers, and our client-side end-to-end encryption is included for every single one of our users. Tresorit offers three business plans for different business needs - no matter which plan fits you best, you can choose to be billed monthly or yearly.
At first glance, ownCloud might seem like a cheaper solution, but there are further costs to consider. If you choose to self-host ownCloud, you'll have to pay for your servers, which is no cheap feat. And in the case of enterprise packages, you only have a yearly payment option, which can be a burden in case you need to modify the number of licenses after a few months of use. In addition, ownCloud offers many features - for example, end-to-end encryption - as add-ons for an extra price.
With Tresorit, creating secure, shared links only takes a few clicks. You also have a long list of security options available: you can set up passwords or expiry dates for links, disable downloads entirely, apply a watermark, and much more. If anything goes wrong, you can revoke the link immediately.
With ownCloud, sharing files securely is more limited. Only password protection and expiry dates are available for sharing links. Secure view is only available through a Collabora integration, and federated file sharing works only if your recipient also uses ownCloud.
While Tresorit doesn't offer real-time collaboration - that would mean breaking end-to-end encryption - we give you tools to help you get work done as securely as possible. Editing badges help you avoid conflict files, and file versioning ensures that no data is lost. Our Outlook and Gmail integrations and upcoming email encryption features support smooth collaboration and facilitate remote work.
ownCloud offers real-time collaboration when you integrate with O365, Collabora, or OpenOffice. However, this feature is only available when end-to-end encryption is not enabled, meaning your work will be at risk.
See why customers choose us
G2 Crowd
Gartner Peer Insights
Capterra