Tresorit vs. Nextcloud:

Why choose Tresorit?

Tresorit offers security and compliance by design, making secure cloud collaboration and content management solutions accessible for every company.
Trusted by 12,000+ organizations worldwide
On-premises-level security for your data in the cloud
Tresorit brings the highest levels of security and control – benefits primarily associated with self-hosted solutions – to the cloud. Powered by our innovative zero-knowledge end-to-end encryption, our content management, and collaboration tools allow you to share, manage and control sensitive files in the cloud. By creating a fully encrypted environment for your internal and external collaboration, our solution makes any third-party access to your data technically impossible.
We believe that ease of use paves the way for secure user habits. That's why we have designed our solution to combine the most sought-after benefits of the cloud – security, and convenience – without the need for extra servers, resources, or hidden costs.
Price

From /user/month – starting from 3 users

€36/user/year – starting from 100 users

Monthly offer

End-to-end encryption by default

Secure file sharing

Limited

External file exchange

Limited

Outlook and Gmail integration

Outlook only

Admin controls and monitoring tools

Limited

Real-time collaboration

Not possible with true E2EE

Only when E2EE not enabled

Email encryption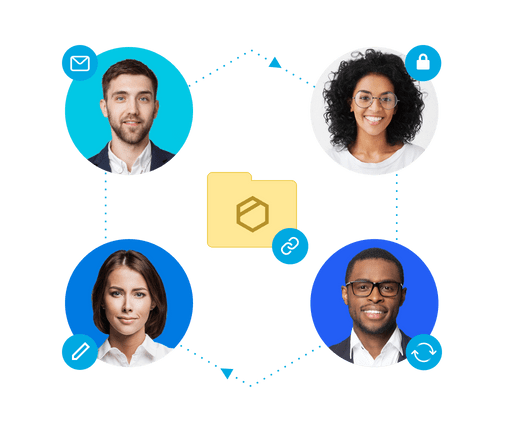 Security and compliance by design
End-to-end encryption is built into our product, requiring no admin support or extra installation. Our
client-side encryption
ensures that every file gets encrypted on the user device and only leaves it fully encrypted.
This ensures that no third party can read or access your files, only the intended recipients who have the keys to decrypt them.
Our zero-knowledge encryption technology requires no trust in the cloud provider while providing you the highest levels of confidentiality and compliance.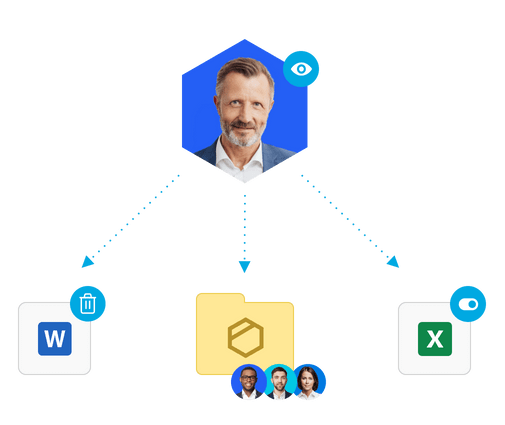 External file exchange with peace of mind
File sharing with external parties is central to your company's growth, yet one of the elements outside of your control. With this in mind, we've developed
a unique array of security
settings to extend your control over files shared outside of your organization. In addition to common settings,
we offer fine-grained options to limit, block, and monitor access to your data
- so you always know what's happening with it.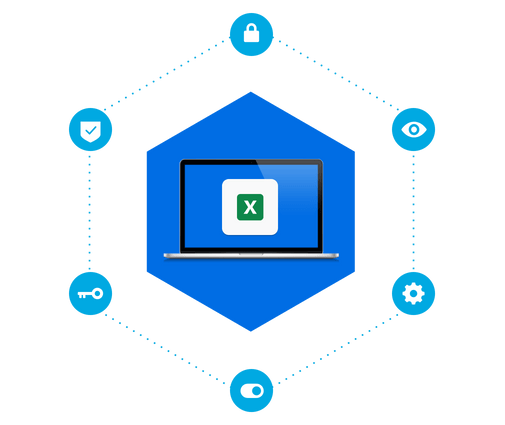 Easy deployment, management, and control – centrally
Tresorit's security-first architecture lets your employees and admins enjoy the convenience of the cloud straight out of the box. Software deployment and management are a no-brainer, which frees up valuable IT resources for you. Our admin dashboard provides real-time control over company-wide file activities. With granular policies, you can customize and enforce security rules on a team and company level.
Manage and control your valuable content in the cloud
End-to-end encryption is integrated into our product. This means that everything you do in your Tresorit Secure Cloud will be seamlessly secured from the ground up - without the need for separate add-ons and any interruption to your work.
To increase team productivity and nurture external collaboration, you can firm up your security with specifically designed controls - both on a user and admin level.
With Tresorit, end-to-end encryption is available from your very first sign-in and always at work whenever you use our tools. Thanks to our client-side encryption, no third-party provider - not even Tresorit - can access your encryption keys and read or scan your files. Thus, compliance with the strictest data regulations is not dependent on extra installation or human diligence but inherently assured through our technology. For greater control over your data, you can choose from our data residency options available in 12 regions.
Nextcloud employs transfer encryption by default. In addition, server-side encryption can also be enabled by admins. However, with keys stored on the Nextcloud servers, this doesn't prevent admins or malicious intruders from accessing the users' files. Nextcloud offers end-to-end encryption as an extra feature only for folder sharing. As e2ee is only available as an add-on, there is room for security flaws and human error, which ultimately puts your security and compliance at risk.
Tresorit makes file sharing possible anytime and anywhere by using ultra-secure links. With Tresorit's plugins for Outlook and Gmail, even your usual preferred communication channels are protected in the best way possible. For external collaboration we provide an unprecedented choice of security controls, including advanced link tracking, watermark, allowed users, and document analytics.
File exchange with Nextcloud is not end-to-end encrypted by default. E2ee can only be enabled for sharing folders/subfolders, making the exchange of sensitive files a cumbersome process. Nextcloud offers limited security settings for share links: only expiration date, password protection, and user permissions are available. Therefore, it cannot prevent threats resulting from unauthorized document download, editing, or reuse.
Real-time collaboration is contrary to the way end-to-end encryption works. While collaborative editing with Tresorit has its limits, you can avoid creating version conflicts by marking files as editing. In addition, you can empower teamwork with features such as Tresorit paths, synced project folders, access permissions, integrations, and more.
Nextcloud excels in offering integrations with document collaboration tools - such as Collabora or ONLYOFFICE - and capabilities for online meetings and conferencing. Real-time collaboration, however, comes with the trade-off of allowing scanning and analyzing of your file content – and can thus compromise your data security.
See why customers choose us
G2 Crowd
Gartner Peer Insights
Capterra
Try Tresorit today

and keep your cloud data secure