Tresorit unter den Gewinnern der 2020 Gartner Peer Insights Customers' Choice für Content Collaboration Tools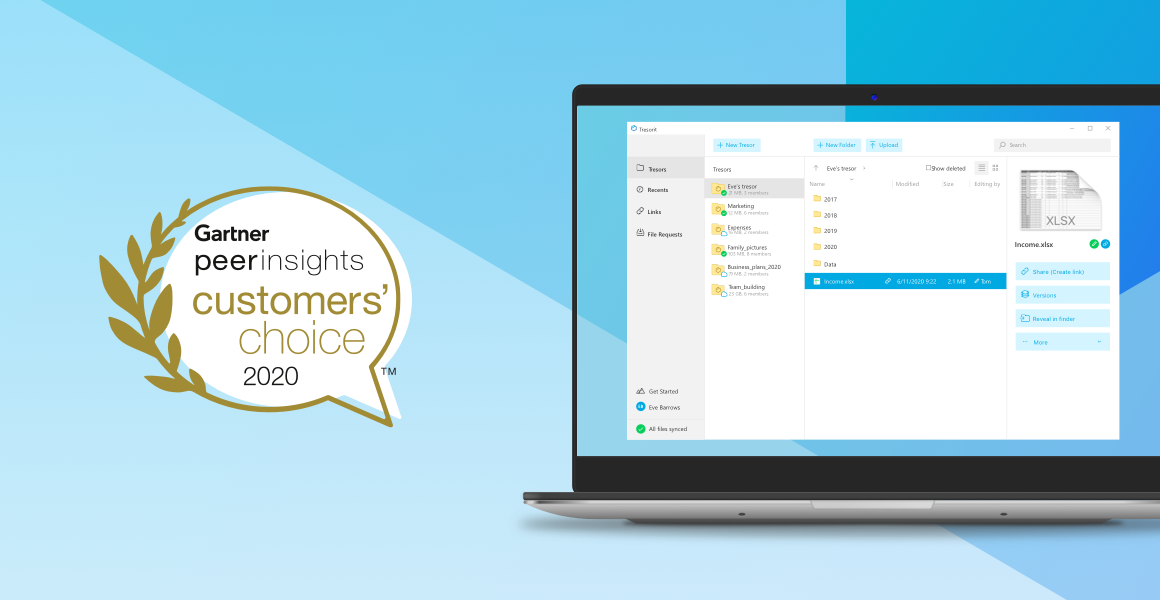 Das Tresorit-Team freut sich bekanntgeben zu können, dass wir eine Customers' Choice-Auszeichnung in der Kategorie 'Voice of the Customer': Content Collaboration Tools der Gartner Peer Insights im Oktober 2020 gewonnen haben. Unser Team bei Tresorit ist sehr stolz auf diese Auszeichnung, da das Feedback unserer Kunden unsere Produkte und Dienstleistungen kontinuierlich prägt.
Die Gartner Peer Insights Customers' Choice ist eine Auszeichnung durch verifizierte Endverbraucher in der Geschäftswelt für Anbieter in diesem Markt, die sowohl die Anzahl der Bewertungen als auch die durchschnittliche Bewertungsrate berücksichtigt. Um eine faire Evaluierung zu gewährleisten, hält Gartner strenge Kriterien für die Anerkennung von Anbietern mit einer hohen Kundenzufriedenheitsrate aufrecht.
Hier finden Sie einige Auszüge von Kundenstimmen, die zu unserer Auszeichnung beigetragen haben:
"Als Wissenschaftler benötigte ich ein integriertes Tool für meine diversen Geräte und die meines Teams, um vertrauliches Material sicher zu speichern und zu bearbeiten. Tresorit ist das perfekte Hilfsmittel, das wirklich super als persönliches Back-up-Tool sowie als integriertes Tool für mein Team funktioniert, um effiziente Arbeitsabläufe zu ermöglichen." - Wissenschaftler, Pädagogik
Vollständige Bewertung auf Englisch lesen →
"Ende-zu-Ende-Verschlüsselung und starke DSGVO-Compliance sind ein absolutes Muss für die Auswahlkriterien, wenn es um die Verwendung eines SaaS-Tools für die Finanzbranche geht. Tresorit kombiniert sehr starke Sicherheit mit Benutzerfreundlichkeit, aktualisiert das Serviceangebot kontinuierlich und fügt regelmäßig neue Funktionalitäten hinzu, wie kürzlich die sichere Dateianforderung." - Programm- und Portfoliomanager, Finanzwesen
Vollständige Bewertung auf Englisch lesen →
Wir alle bei Tresorit sind unglaublich stolz darauf, die Ehrung als 2020 Customers' Choice für Content Collaboration Tools erhalten zu haben. Um mehr über diese Auszeichnung zu erfahren und Bewertungen über Tresorit und andere Produkte auf dem Markt zu lesen, die von Fachleuten verfasst wurden, die diese Tools verwenden, schauen Sie sich bitte die Content Collaboration Tools-Seite der Gartner Peer Insights an.
Ein herzliches Dankeschön an all unsere Kunden, die eine Bewertung eingereicht haben! Diese Rezensionen haben unsere Produkte und unser Kundenerlebnis entscheidend geprägt und wir freuen uns darauf, auf der Erfahrung aufzubauen, die uns diese Auszeichnung eingebracht hat.
Wenn Sie eine Tresorit-Geschichte haben, die Sie teilen möchten, möchten wir Sie dazu ermutigen, der Gartner Peer Insights-Community beizutreten und Ihre Meinung einzubringen.
The GARTNER PEER INSIGHTS CUSTOMERS' CHOICE badge is a trademark and service mark of Gartner, Inc., and/or its affiliates, and is used herein with permission. All rights reserved. Gartner Peer Insights Customers' Choice constitute the subjective opinions of individual end-user reviews, ratings, and data applied against a documented methodology; they neither represent the views of, nor constitute an endorsement by, Gartner or its affiliates.