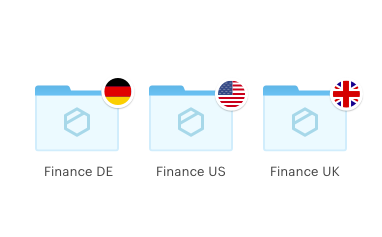 Organizations collect and produce vast amounts of data which calls for fast and efficient data management processes. In recent years, government-issued regulations began putting a heavy emphasis on data management on a regional scale, proposing new challenges for companies.
Tresorit Business and Enterprise customers can choose from multiple data center locations. Organizations with offices around the globe can keep their data in multiple countries, while ensuring frictionless collaboration between teams. Users can be assigned to data centers, guaranteeing that they will only be able to keep their data where they are supposed to.
When to use
Some regulations may require client data to be stored within the region's border

GDPR: General Data Protection Regulation, relevant to all EU states
CCPA: California Customer Privacy Act, relevant to the State of California
DPA: Data Privacy Act, relevant to the United Kingdom
FinIA: The Financial Institutions Act is relevant to financial institutions seated in Switzerland
HDS: The Health Data Hosting is relevant for personal health data governed by French laws.

Companies with offices in multiple countries

Tresorit admins can assign users to data centers so that they'll only be able to keep data in the selected location. Collaboration will remain frictionless between teams, even if you select different data centers for them.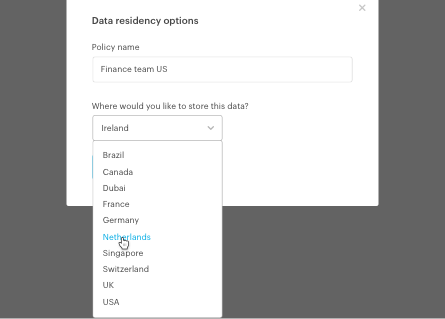 How it works
Select the team policy for which you'd like to change the data center.
Select the data center where you want them to keep data.
Save changes.
Available regions
Ireland
UK
USA - East
USA - West
Canada
Germany
Switzerland
France
Singapore
Netherlands
UAE - Dubai
Brazil