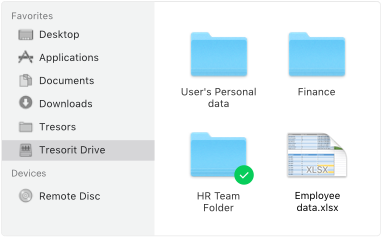 Having files locally on the computer and syncing them with the cloud is a must-have for most businesses. However, in several scenarios it can bring up usability, compliance and security issues. Continuously syncing files to your computer can use up office bandwidth and storage space on devices. Even more problematic, files synced locally can present a huge security risk. This can lead to a data breach in case of a lost or stolen device.
Work strictly in the cloud with Tresorit Drive by accessing and editing cloud only files directly from Windows and Mac computers' file browser without downloading or syncing them. It keeps team files end-to-end encrypted on the servers while colleagues can access them easily in their file manager any time they need to. This feature brings the best of two worlds together: the flexibility of the cloud and the convenience of local storage.
When to use?
Make remote work secure and efficient

Due to security reasons, downloading confidential files to private devices might go against security policies. With Tresorit, admins can simply disable syncing to local drives to make sure everything happens in the cloud. Users can securely access files they need from their file managers.

Control your sensitive company data better

To comply with security standards like the ISO27001/270012, or regulations like the GDPR, businesses need to make sure they have strict security policies in place for devices. As a preventive control method, only keeping files in the cloud helps you manage this. In case a work device is lost or stolen, admins can simply unlink it. This removes the Tresorit app from that device, leaving no access to files.

Save space on devices

Collaborating on documents, especially on large files, requires space. Keeping all the files in the cloud enables you to use the maximum storage needed while saving space on the computers. With Tresorit Drive, your team can access all files securely in their file manager, regardless of how much space they have available on their hard drive or SSD.

Let your team work the way they like

If your team is already used to working in their file manager, they'll be glad they don't have to change their preferred workflow. With Tresorit Drive, they can access any cloud-based file directly from Finder on Mac or File Manager on Windows.
"Our most sensitive data are our clients' ideas. By switching to Tresorit our consultants and clients are now presented with the desired flexibility – without having to compromise their data security."

Frank Bösenberg,

CEO of Eugrant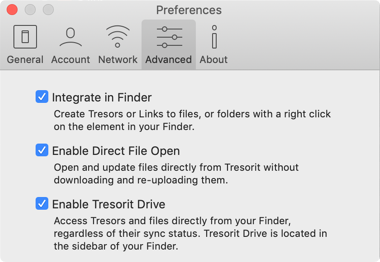 How does Tresorit Drive work?
Open your file explorer in Windows or file manager in Mac.
Locate Tresorit Drive (T:) and open.
You already have access to your cloud only files.
Open and edit files as you wish.
Components
Shared link in File explorer: Share files up to 5GB with an end-to-end encrypted method directly from your file explorer. Further improve security with passwords, expiry dates, open limits, and email verification.
Tresorit Path in File explorer: This is the quickest way to collaborate on files with Tresorit. Share the access path with other Tresorit users to work on the same document.
Move files between tresors: Move files between Tresors using Tresorit Drive.