Control Access to Folders by 'Share Only Within Subscription'

At Tresorit, we're always striving to enable our customers to keep their sensitive files safe and to help them prevent accidental data breaches. Today, we are delighted to announce a new control feature to secure collaboration within Tresorit.
Approve who can invite outsiders
It's the IT Admin's responsibility to ensure that data control and protection guidelines are followed. With teamwork increasingly happening online, IT admins have a hard time securing internal collaboration processes. Whenever team members or different teams work together on confidential documents, there is a risk of accidental or intentional data leaks.

While data breaches often happen as a result of hacker attacks, several studies reveal that human error is actually the prevailing cause of data breaches and incidents.[1] Luckily, most of these can be prevented with well-defined security measures.

That is why, on top of our bullet-proof end-to-end encryption, we also put a lot of effort into providing customizable policies that can secure collaboration within your organization.

We are proud to announce that we have launched a new control feature, the 'Share only within subscription'. With this new feature, admins can set up a policy regarding whether users can share Tresors (encrypted folders) internally only or externally as well. When 'Share only within subscription' is on, users can't invite people outside their subscription to a Tresor.
How does 'Share only within subscription' work?
This new feature sits under the "Tresor sharing" section of the Policy templates which is available only for account admins. Admins can control Tresor owners' and managers' ability to share Tresors. Sharing can be enabled with anyone, with subscription members only, or it can be completely disabled.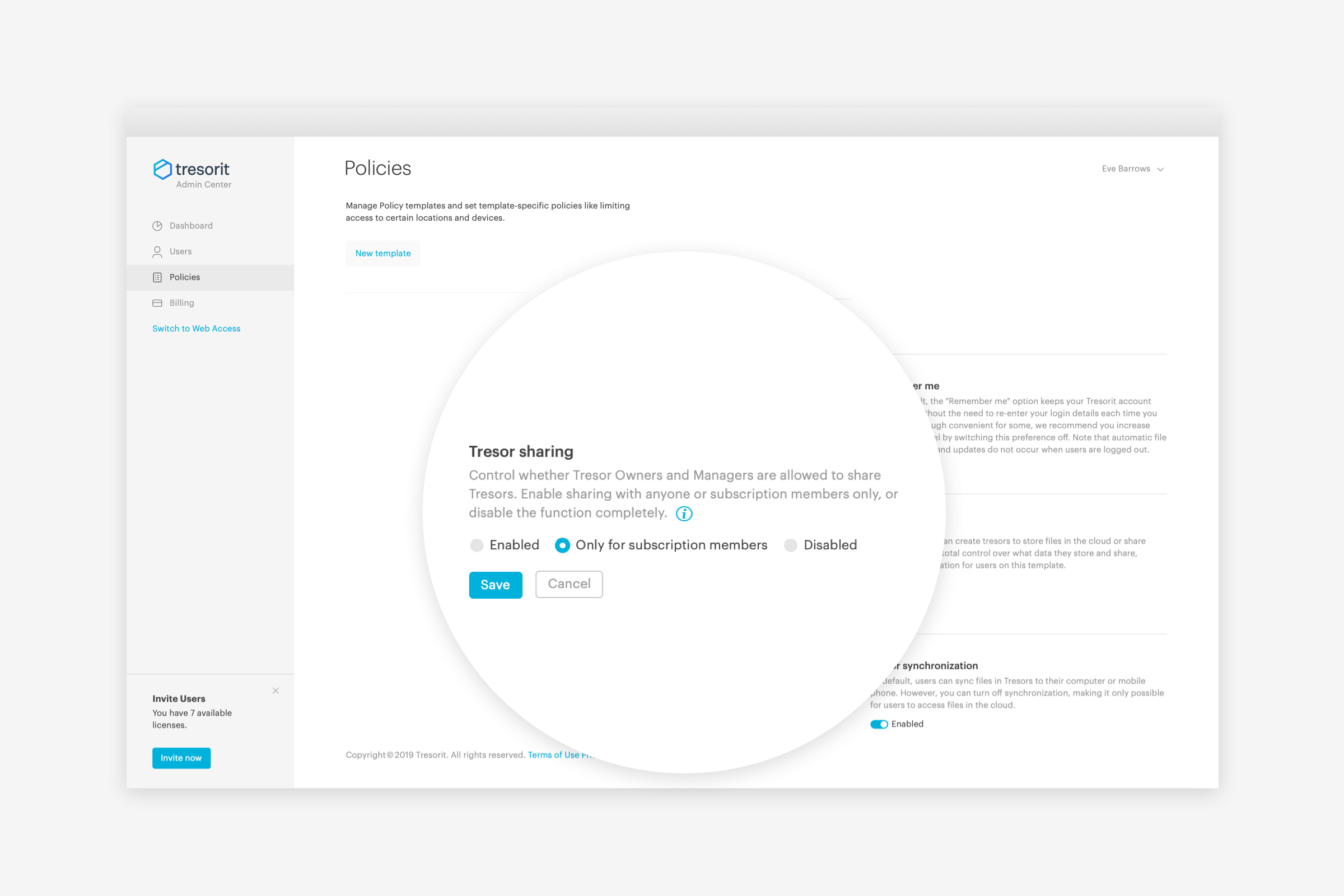 When should I use it?
No matter if you work in a private medical clinic, a financial advisory or a law firm, this function can be a lifesaver. What's common in these types of companies is that they work with confidential data which cannot leave the organization's perimeters.

Take this scenario for example. Law firms create a Tresor for each client. The data stored in the Tresor cannot be shared externally as it's for internal use only. Tresorit's permissions enables users to share Tresors with different access levels ranging from Viewer to Manager. From now on, internal data can be further protected with the 'Share only within subscription' function. This enables teams to collaborate on the documents internally, but prohibits users – even those with Manager level access – from sharing the Tresor externally.
Interested to know more about how Tresorit keeps your files safe?
[1] https://iapp.org/news/a/data-indicates-human-error-prevailing-cause-of-breaches-incidents/