Meet us! Fall conference season is coming, stay tuned for Tresorit news!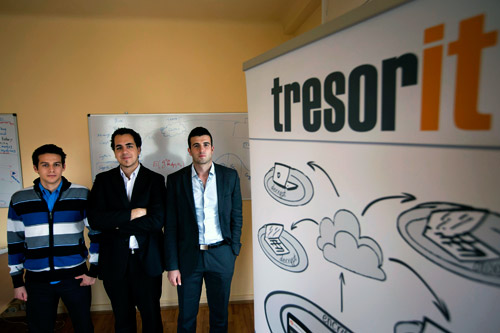 We spent the summer planning our 2013 fall event calendar, submitting applications to startup awards, and making sure you'll be able to meet us!
Why are we so excited?
We earned the chance of giving live pitches and introduce Tresorit to the exciting audience of Structure:Europe and Webit Conference. We are grateful for all the support you, members of our community showed, which made all this possible.
We're sure many speakers at the conferences will rock their presentations. We believe that learning is a key element of building a startup, so we feel we'll get a great chance to develop.
Finally, getting to know new people (maybe you?) is a great source of inspiration, which we always appreciate!
If you participate in any of the highlighted events, make sure that you say hello to the Tresorit team!
GigaOM Structure:Europe; London 17-19 September
What? Structure:Europe is where Europe's leading cloud visionaries convene to analyse technology and product needs for cloud services in Europe.
How to find Tresorit: As a Launchpad finalist, we will give a live pitch on stage from (around) 5.30 pm on 18th. Make sure you also check out our spot on the exhibition floor!

What is GigaOM Launchpad? Startup Zone finalists are a snapshot of worldwide innovation – from San Francisco to Budapest – tackling issues such as devops, encryption and privacy, mobile backend as a service, and more.

Update: find the direct link to the Tresorit presentation here!
CEO CF Fall meeting; London 13-15 October
What? CEO Collaborative forum and to quote: 'a diverse group of individuals with a homogeneous set of concerns.'

How to find Tresorit: If you are a CEO- CF member, add Istvan Lam, our CEO to your list through the conference's networking app.
Gitex Technology Week; Dubai 20-24 October
What? The region's largest integrated cloud exhibition and conference.

How to find Tresorit? Look for the Hungarian stand (SR-G30) in the International Pavilon (Sheikh Rashid Hall). Tresorit representatives will be waiting to meet you!

Gitex is one of the big challenges of the fall conference season. With more than 140.000 expected visitors, the Technology Week surely will provide great opportunities of getting to know the region's key influencers. We will arrive ready to enter this emerging cloud market.
PIONEERS Festival; VIENNA 31 October
What? One of the most interesting startup event full of tech talks and networking with entrepreneurs, coders, builders, and other "troublemakers".

How to find Tresorit: We are participating in the 90′ pitch series, meet us for a coffee any time before or after the picth!

Disruptive tech product showcases, future trends, hands-on experience from curated global top speakers. Pioneers Festival gathers the tech scene – startups, founders, hackers, bloggers, VCs and innovators from all over to inspire and be inspired.

Update: check out the official Pioneers youtube channel and get inspired!
Webit Conference; Istanbul 06-07 November
What? Webit is one of most well-attended global digital, tech and telco events.

How to find Tresorit: We will give a live pitch on stage, make sure you check out the Startup Challenge!

Tresorit made it to the 10 Audience Award winners! We got selected from 834 startups who applied for the Global Webit StartUp Challenge from all around the globe. Thanks for all the love: we received almost 1400 votes!
LeWeb Conference; Paris 04-06 December
What? LeWeb is Europe's largest tech conference,focusing on the future of the internet.

How to find Tresorit: We will give a live pitch on stage, make sure you check out the Startup Competition or stop for a word at the Tresorit desk!

Le Web is Europe's largest tech conference, bringing together many entrepreneurs, leaders and influencers who shape the future of the internet. This is a unique event that draws different tech communities, as one of the 16 finalists of LeWeb Paris Startup Competition we are happy to introduce Tresorit!

Update: find the direct link to the Tresorit Presentation and french Tresorit intorduction here
Budapest based events
As one of the successful 'newcomers' of the Hungarian startup ecosystem, we love participating at Budapest based events. We highlighted some of them – this list is surely not complete. We also have our headquarter here, so some of us surely will be around the office  city any time. If you are visiting Budapest and wish to meet us, just drop a line here.

Kairos Talk 18/09 Kairos Society Budapest's third gathering event in 2013, with the guest speaker Peter Zaboji. Make sure you register at their eventbrite profile! Get more info here. As a K50 startup we are always happy to visit Kairos events, so if you have the chance of participating make sure you say hello!

Entrepreneurship Summit organized by the American Chamber of Commerce in Hungary, 26/09 – Istvan Lam, our CEO introduces Tresorit's case study 'From the classroom to the real world' and also participates in a round-table talk, addressing the implications of startup heat for the ecosystem.