Helping you avoid workflow conflicts: introducing the "Editing Badge"

People tend to avoid software they don't enjoy using and often turn to less secure services to make daily tasks smoother. After all, security is great, but is it really worth it when it makes our day-to-day life trickier? The good news is, there are ways of working where you don't have to compromise security for convenience. At Tresorit, our product team is dedicated to finding solutions to make teams more productive without sacrificing the high level of security we're committed to providing you. So without further ado, here is the latest workflow improvement we have devised for you and your team.
Security doesn't have to be uncomfortable
Tresorit is well-known for its novel approach to file sync and sharing by using end-to-end encryption. For security and privacy reasons Tresorit never decrypts anything on the servers, just on the local machines of users. What this means in practical terms is that teams can't work on the same file at the same time in the cloud. Although it seems inconvenient, with this standard of end-to-end encryption and zero-knowledge key and password management, Tresorit makes sure files can't be accessed by unauthorized 3rd parties. The slight drawback; whenever two or more people open the same file from Tresorit and save their changes, it leads to file conflicts.

Getting lost in file version trees and clashing over file editing is something we'd rather you don't experience. That's why we're launching the 'Editing badge' today. From now on, you can avoid conflicts by adding an editing badge to documents so that your colleagues know you're currently working on them.
Seamless collaboration on documents
With the new Editing Badge function, documents can be marked as editing for a selected time. Other colleagues will know who is currently working on them. In this way, they can avoid opening those files and creating conflicts. However, files with editing badges can still be opened if needed. The badge will be removed once the timer expires or the user removes it manually.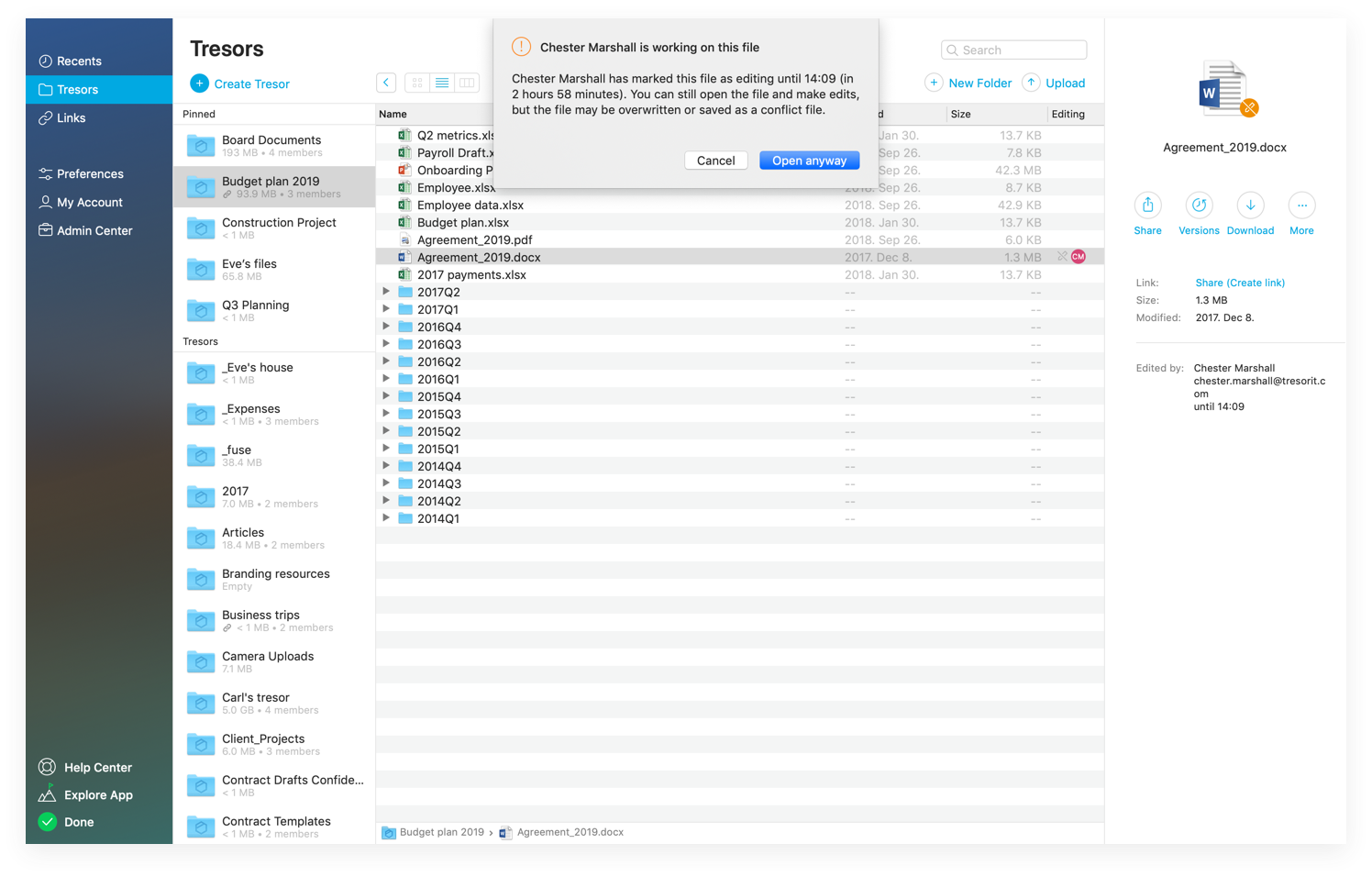 Interested to know more about how Tresorit secures cloud collaboration?
Read more