Secure external collaboration as game changer - 5 industry examples (Part 2)

Securing external collaboration is often a neglected aspect of company strategy. Sending files to external partners using risky file sharing methods like email attachments and mainstream cloud services can lead to serious vulnerabilities in your security architecture - and in the worst cases, devastating data breaches.
On top of that, professionals working in specific fields like lawyers, bookkeepers, and finance executives are subject to confidentiality agreements. They have to comply with strict data protection regulations when it comes to interacting with third parties and clients and collecting files from everyone.
In other words, it boils down to the following: how can you receive files securely from external parties? Tresorit's new feature, the end-to-end-encrypted file request is the short answer to your question. In the first part of our blog post, we explored various use cases for external collaboration, specifically focusing on how HR departments and bookkeepers can take advantage of this feature.
Now we want to invite you to the next chapter of our industry overview. This article dives deeper into the challenges that finance departments and lawyers face when collaborating with third parties, and provides some useful examples of how you can facilitate cross-functional collaboration to make it more efficient.
1. Finance departments
The challenges of receiving financial data and reports
According to the Global Threat Intelligence Report 2019, 30% of cyber-attacks in EMEA were targeted at the finance sector, making finance the most-attacked industry in the region. The IBM cost of a Data Breach report highlights a similar tendency: in 2019, finance institutions suffered the highest financial losses due to data breaches.
As data-based transactions, almost all financial activities involve sensitive information or personal data. On top of this, the adoption of smart solutions by companies opens up additional security vulnerabilities for cyber criminals to exploit. Platform integrations and risky file exchange methods with third parties, clients, and employees present an increasingly attractive target for hackers.
Being a highly regulated industry, financial departments and institutions must also adhere to ever more complex compliance requirements. Regulatory authorities such as the BaFin (Federal Financial Supervisory Authority), the EBA (European Banking Authority) and the ECB (European Central Bank) have drawn up strict guidelines regarding data protection and data security for this sector. In addition, GDPR regulations are also binding for financial departments stipulating strict data protections rules for handling sensitive customer data.
File request as a solution for finance departments
Invoices from third parties, financial forecasts, and other confidential documents from finance consultants can be collected hassle-free via an end-to-end-encrypted channel. This completely removes the risk of unwanted data leaks during external collaboration and your partners don't even need to own a Tresorit account to use it. With the ability to control access rights and uploaded files, finance decisions and transactions can be made faster and more efficiently.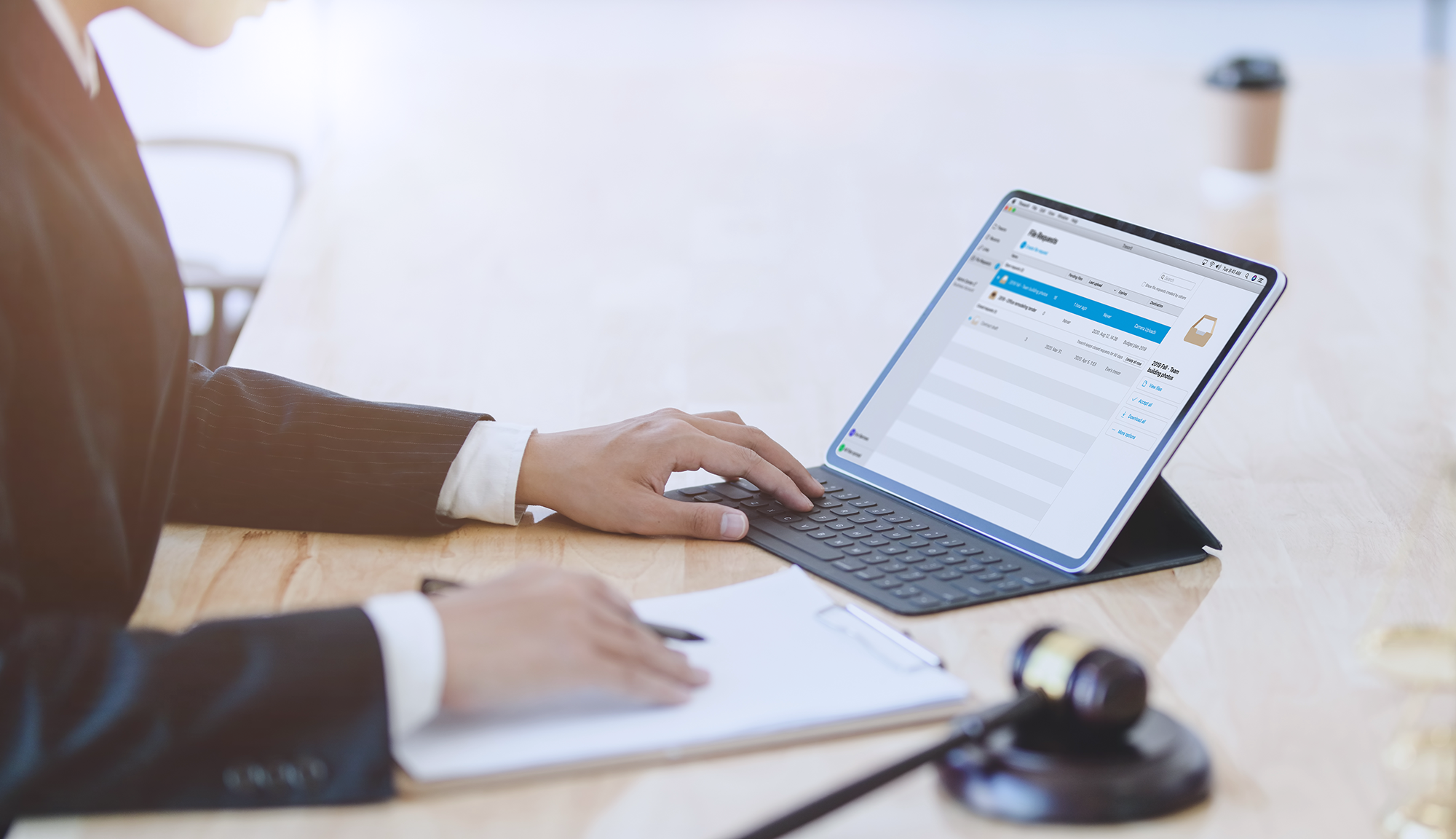 2. Legal professionals and law firms
Challenges of confidential client correspondence
Securing digital communication with clients will set the course for the future of law firms. In a world where people are sharing files in the cloud and doing mobile banking, requesting legal documents and contracts to be sent via post or handed over personally can be cumbersome for clients. Besides the fact that it's irritating and inefficient, working this way can also prolong legal cases unnecessarily. However, sending legal documents via email is not the solution either, since serious security risks come hand in hand with this communication channel.
Confidentiality is the cornerstone of attorney-client privilege. Lawyers are subject to the legal duty of professional secrecy and obliged to protect confidential information obtained in the course of their professional activities according to the state of technology.
As attorneys regularly handle personal client data, GDPR regulations apply to them as well. In fact, they should maintain this confidentiality throughout the whole case, from the first meeting with the client, across all their communication, all the way up until the final invoice.
File request as a client-attorney communication solution
Lawyers can request confidential information from their clients directly into their secure folder by creating an end-to-end-encrypted link. This enables them to engage in legally compliant collaboration with clients, with the maximum level of discretion. In the case of more complex legal disputes, they can effortlessly involve other parties and securely collect documents from them. Also, their clients will surely appreciate the comfortable and secure way of communication.
+1 Collaboration between departments
Challenges of cross-functional collaboration
The more a company grows, the harder it becomes to coordinate cross-departmental collaboration. These difficulties stem from the fact that divisions start to rely more on their own team-specific communication channels and policies, which may not match the methods of other teams. Nevertheless, collaboration between departments remains crucial as the company is growing, as this is the only way to be able to engage teams in working towards common goals together.
Imagine the following example scenarios: New contracts need to be signed in cooperation with legal and sales. Proposal documents created by sales need to be approved by finance. The leadership team might request budget drafts and detailed reports from responsible departments.
Providing up-to-date and relevant data can fuel collaboration between departments, however, it can create plenty of challenges as well. When there is no agreement in place to use the same collaboration tools and access rights are not determined in advance, it can lead to an endless email chain, perhaps disclosing information unnecessarily to a wider circle of readers.
You may ask: What kind of risks can this entail? The figures of the IBM's cost of insider threats report 2020 are indicative of the extent of the security risks involved: the amount of data breaches caused by insiders has tripled in the last year and negligent employees were the root cause of over 60% of the incidents reported.
File request as an enterprise-grade solution for cross-functional collaboration
Enterprises can boost collaboration between departments by using file requests to collect confidential documents. Without needing to manage access rights to their own team-specific folders, departments can request confidential files from other teams more efficiently via encrypted links. This way, you can enable your employees to circulate sensitive files internally, in a simple, secure, and controlled way.
Plenty of scenarios, one single solution
The examples presented in this and the previous blog post only showcase a few possible scenarios from the full spectrum of file request use cases your company could benefit from. Data protection and data security shouldn't just be an internal matter in your company's strategy. Since every economic activity takes place in a dynamic ecosystem with other service providers, secure collaboration with external parties is just as critical to your success as safeguarding internal data transmission is.