Our biggest update yet in 2015 – work securely without installing Tresorit, using your browser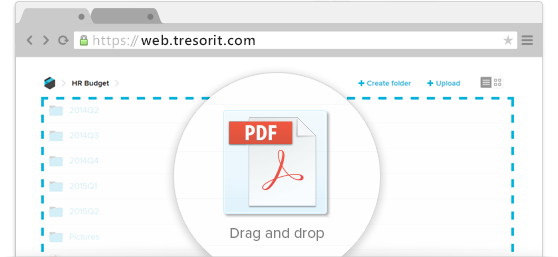 We spent a good part of this year updating our infrastructure. This work allowed us to launch our biggest update yet in 2015. Tresorit is now faster, more stable and packs a bunch of new features – including some long awaited ones.
Sharing, syncing and storing files securely is now possible right from your browser. Finding files is faster on both desktop and mobile. Sharing also got easier and much faster. Read on for more details!
Access, upload & share files from a browser
Using Tresorit from a browser means you don't need to install software, but still have access to sensitive files anywhere. Tresorit's secure Web Access got a lot smarter:
You can now upload files, create tresors and share them from your browser, protected by Tresorit's zero-knowledge security
What's more, if you share files or folders, the others can access them securely and instantly, right from their browsers too – they don't need to download and install any software to work with you.
Invite anyone to work together privately
Tresorit is unique because it protects your files more than any other solution, even when you share them with others. With this update, we have made it easier to collaborate, and kept our strict security standards:
You can now send colleagues, customers and partners a link to your tresors.
You can stay in control by limiting who can access files via a link, set the number of users, protect the invitation with a password or add domain based restrictions.
Tip: Use links to invite anyone to collaborate, even if they don't yet use Tresorit. Read more about how to invite new members to your shared tresors at our Knowledge Base.
Browse and find files and pictures quickly
It can be a chore to find files among all the data you store in Tresorit. Here's how we made that easier:
To help find what you need quickly, desktop apps support thumbnails, can arrange files in grid views and offer more options to sort and order them.
We made photo management easier on mobile. Besides adding thumbnails on all mobile devices, swiping between pictures got much quicker on iOS and Android.
Share your thoughts on the latest features and join the discussion on Facebook, Twitter or LinkedIn. Are there other features you think would make Tresorit better? Let us know – we love feedback.