2023 Cloud Expo Europe recap: Secure file sharing, green IT, and more

As crises around the world continue to evolve at a rapid pace, so does the need for future-proof technologies and collaboration to encounter them. Emerging solutions are mostly cooperation efforts beyond borders and considered key to tackling challenges like cybercrime or climate change. When it comes to future-proofing collaboration, there was no better place to start than the Tresorit stand at the previous edition of Cloud Expo Europe in Frankfurt am Main, Germany.
Tresorit is a cloud-based collaboration platform that prioritizes security and privacy without sacrificing usability. Our platform is built around the idea that easy-to-use security features are key to keeping data safe in a world where cyber threats are becoming increasingly sophisticated. At the 2023 Cloud Expo Europe fair (CEE), the Tresorit booth was one of the go-to destinations for attendees looking for secure file sharing options and a boost in productivity.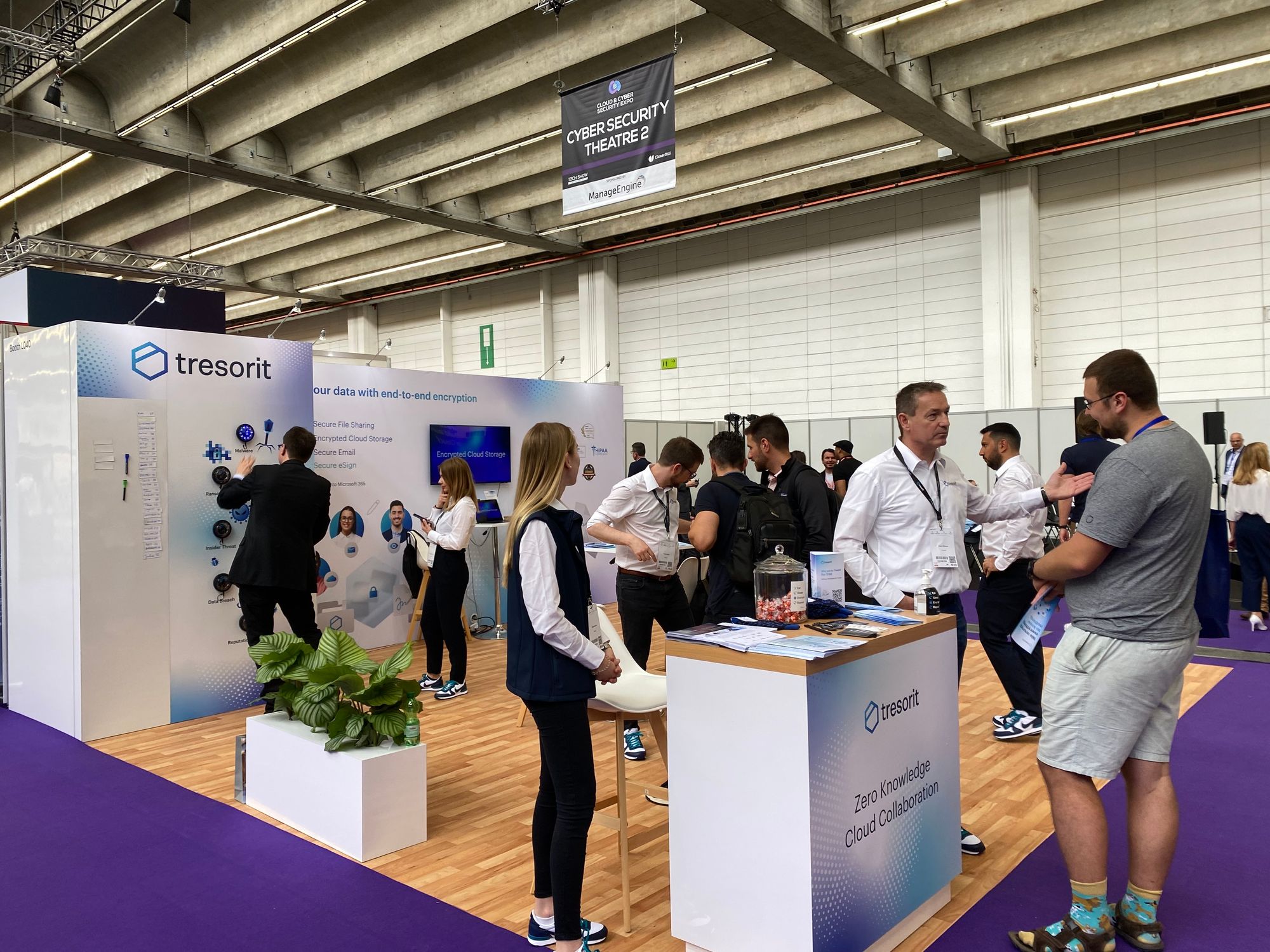 Enable your colleagues to collaborate securely
According to visitor feedback, the most compelling reason to take a closer look at Tresorit is our unique approach to security when sharing with both internal and external processors. Integration (e.g., with Microsoft Outlook) was another topic that resonated with many visitors to our 2023 CEE booth.
Unlike other cloud-based collaboration platforms that rely on third-party providers for their technologies, Tresorit has built its own end-to-end encryption technology. This means that all data is encrypted on the user's device before it even leaves their hands, and it remains encrypted throughout its journey to Tresorit's servers and back. As a result, even if a hacker were to intercept the data, they would only see a jumbled mess of characters that's impossible to decipher.
But while cybersecurity has been the top priority for Tresorit's on-site experts chatting with their peers at CEE, usability was a recurring talking point. This is crucial because if collaboration tool security is too complicated or cumbersome, people won't use it. This is why Tresorit encryption happens automatically. Users don't need to worry about encrypting data anymore.
Other chances to learn how compliance and encryption work with Tresorit were the crowded on-site events: Peter Budai, Chief Product Officer of Tresorit, shared his expertise during two speaker sessions:
CEE session on day one was about "Compliance without compromise"

In the first session, you could learn how to remain efficient and highly functional while preventing shadow IT.

CEE session on day two was about "Your Encryption: Is it really protecting for you?"

In the second session, Peter Budai and the audience explored what "secure by design" means and how to find out whether encryption is really protecting your digital valuables.
Tresorit's shared a short Twitter live thread on the second session if you want to revisit the session. You can find another set of impressions in the Tresorit LinkedIn feed.
Wanna learn more about #encryption and its role in digital business? 🤓

Come on over to #cybersecurity keynote stage at @CEEFrankfurt and get first-hand insights from seasoned #tresorit expert @bucnak now. #ceef pic.twitter.com/w5svaLtchI

— Tresorit (@Tresorit) May 11, 2023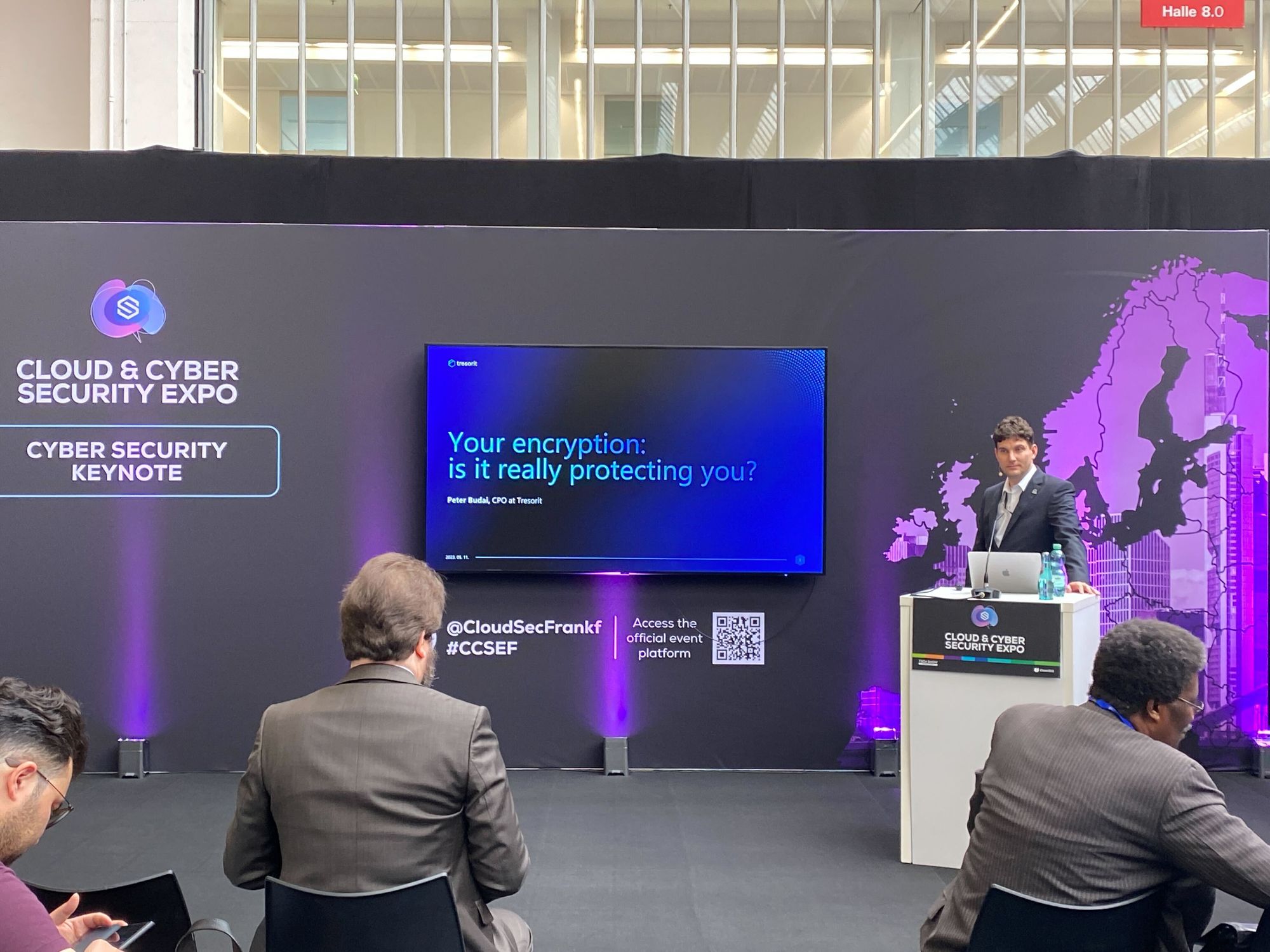 Future-proof collaboration for all
Making businesses future-ready, that is, secure and resilient, was one of the main themes of the 2023 CEE fair. In addition to collaboration and encryption, this included further on-site talking points like:
How to mitigate quantum computing risks,
Data centers leveraging artificial intelligence for managing resources – energy in particular – more efficiently,
Navigating new regulatory roadmaps within Europe,
Knowing limitations when it comes to cloud implementation, and
The need for cloud computing and sovereignty to boost digital transformation worldwide.
Overall, the Tresorit booth was the go-to destination for businesses that want to use a secure yet easy-to-use storage and file sharing solution. With its patented end-to-end encryption tech and additional functions like Tresorit eSign, we offer a level of protection that's unparalleled in the world of cloud-based collaboration platforms. And because of this, businesses can be confident that their employees will actually use it to collaborate and share files securely.
Thanks for (re-)visiting the 2023 Tresorit CEE event. Let's move on to the next one.