Introducing Tresorits Windows Phone Cloud Storage App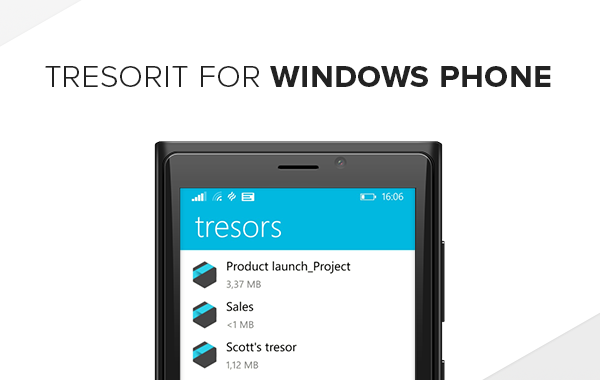 We are proud to announce the arrival of Tresorit's Windows Phone Cloud Storage App. We have been working on this platform for a while with beta testers and finally we are ready to publish the beta version.
Tresorit' Windows Phone Cloud Storage App offers many of Tresorit benefits: we are bringing secure cloud storage for a new platform. You can access and share all your files securely from your Tresorit Windows phone cloud app wherever you are. Add an extra layer of security to you document management.
We also want to say a BIG Thank You for all your support, feature requests, and questions you sent to us.
How to get The Tresorit windows phone cloud storage app?
New to Tresorit?
Download Tresorit to Windows, Mac or other mobile platforms here and register.
Get Tresorit for Windows Phone app in the store and log in!
One of our beta testers?
If you wish you can keep your beta app, you will receive every new features quicker as
Get the published app at the store by clicking get Tresorit. It will be a smoother and more stable experience to use Tresorit.
Already a Tresorit user?
Download Tresorit for Windows Phone by clicking get Tresorit and log in to access your files securely.

We would love to hear how you are doing with the new Tresorit, so cheer up the Tresorit cryptographers by sharing your love, thoughts or suggestions here, via Twitter or Facebook, or by emailing Myke at support@tresorit.com!