Launching File Restore: easily recover deleted files with Tresorit

We all know that losing your work files is a serious setback to you and your business and a considerable blow to productivity. And, almost everyone has accidentally deleted an important file once or twice in their professional life.

Ransomware attacks are an even worse way to lose your files as they risk the confidential data companies manage and result in severe financial and reputational harm.

We know how important your work is, so we've got your back. Tresorit can help you in recovering your files in case you or your business falls victim to any of these unfortunate events. We're happy to announce the launch of our new File Restore feature. File Restore helps you to easily recover deleted files in Tresorit in the case of accidental deletions and ransomware attacks.
The option to recover files has been among the top feature requests we've heard from our users and customers. Even though a workaround existed in some of the cases and the option restore files to previous versions is already available, a user-friendly way to restore deleted files was missing until now.
How does File Restore work?
You can recover deleted files and folders by clicking "Show deleted" on various platforms.
All deleted items will show up in grey and strikethrough.
Select the items you want to recover then click on the "Restore" button from the context menu.
 Delete and restore options will now be visible.

How does Delete change in Tresorit?
When you delete a file, a folder or multiple items in Tresorit, you will be asked if you want to simply delete a file or permanently delete that.
The simply deleted files and folders are moved to "Deleted items" and will be visible by clicking on "Show deleted".
Deleted and restored filenames will be visible on "Activity" and "Recents", too.
Permanently deleted files cannot be restored. You will not see their file names either for compliance reasons.
The synchronization always moves items to Deleted items, which you can later permanently delete or restore.
Deleted items count towards your storage quota; you may get rid of all deleted items of a tresor by selecting "Remove deleted items" from its context menu.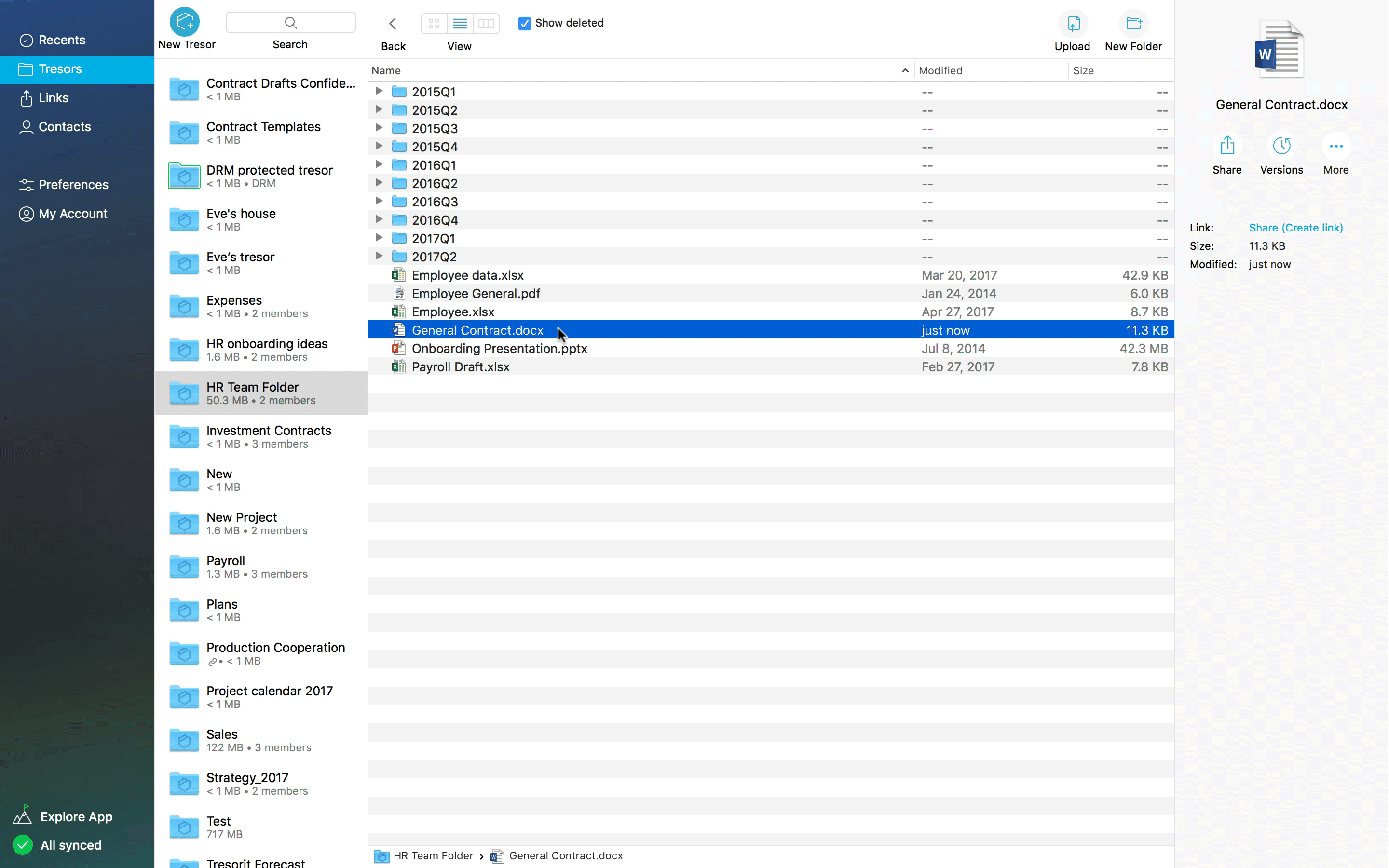 File restore will be available for Tresorit Premium, Solo and Business users on all major platforms, including the Web Access and mobile platforms from the following versions:
Windows: 3.1.1333.740 or later
Mac: 3.1.1218.740 or later
Linux: 3.1.1218.740 or later
iOS: 3.0.827.743 or later
Android: 3.0.706.743 or later
Please note that items deleted in earlier Tresorit versions cannot be recovered. Also, you cannot recover entire tresors, only files, and folders.

With the deleted file and folder restore feature coming to all platforms, other workaround solutions (including the hidden local .trash folder) will be disabled soon.

If you are interested how File Restore works on various platforms, please visit our Support Center.