Browsing history: an association with a name to uphold
"What's at stake is really the reputation of the organisation and that reputation can be applicable to a non-profit like AITP and any professional association like us. Or any other organisation who has a brand that's incredibly important," AITP Atlanta President Steven Wright says. He certainly knows what he's talking about. The Association of Information Technology Professionals (AITP) has been around since as early as 1949. It started out as NMAA, short for National Machine Accountants Association, a Chicago-based professional society for technical workers in charge of operating tabulating equipment, the forerunner of computers.
By 1996, it had become a nationwide organisation and adopted its current name. Today, AITP encompasses over 60 local chapters and almost 300 student chapters at colleges and universities across the US. In 2017, it was purchased by CompTIA (Computing Technology Industry Association), the single biggest trade association and issuer of professional certifications for the IT industry. For decades, a key pillar of AITP's governance, and a great source of pride, has been its strong code of ethics that all its members must abide by – and that the association is keen on protecting.
Risky business: the challenge of keeping a safe harbour safe
"We are a non-profit professional organisation that supports the general IT community, from individual contributors to executives. The main purpose of the organisation is continued education and peer-to-peer networking," Steven explains. He continues: "AITP was set up to support the community as a whole, giving a venue to IT leaders and professionals to get together and discuss emerging technologies and be able to learn from each other." The most important thing that has kept the association strong for so many years, however, is the safe harbour environment it provides for its members.
"Prior to Tresorit, each member was using their own cloud storage," the Atlanta chapter leader recalls. The situation was far from ideal. There was a lack of continuity in the association's ability to share information among its members. The other thing painfully lacking was a single storage area for the entire network to keep all that information. "Because everyone used their own cloud storage or even stored documents on their hard drive, you can imagine the risk that was affiliated with that. For us to lose that information would be devastating. Because we'd lose much of the institutional knowledge that we've gained during our existence."
Tresorit enables collaboration in a secure and safe environment that no other tool we found has been able to match.
In safe hands: Tresorit brings ease of use and ease of mind
"Our day-to-day use of Tresorit has been phenomenal," Steven sums up AITP's experience with Tresorit's zero-knowledge, end-to-end encrypted cloud storage service. Members can now sign into a single cloud solution anytime, anywhere, on any device. The organisation has also been impressed by the ease of use from installation to accessing data. "To be able to pull all those documents up through the Tresorit mobile tool on my app without having to hunt for them has become an enabler of success for the organisation. It has completely transformed how we collaborate as an organisation between one another."
And they make sure to extend this benefit to everyone who joins their network, events or courses. Today, the safe harbour that AITP creates, and has been so proud of for decades, includes making sure that people understand that their information is safe with them. Steven explains: "Any type of negative attribute that is tied to a data breach impacts your brand. Partnering with Tresorit enables us to show that we are advanced in how we are operating and how safe and sound the documentation is that we have. Tresorit enables collaboration in a secure and safe environment that no other tool we found has been able to match."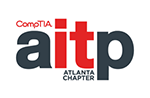 Company
AITP (Association of Information Technology Professionals) is a national organisation in the US dedicated to ethics and professionalism in the field of data processing. Encouraging the development of educational programs and self-improvement, the association embraces high standards of competence and promotes awareness of the impact information processing has on society.
Industry
Non-profit
Region
US
Size
201-500
The Challenge
Protect the reputation of a well-respected professional organisation

Members use a variety of platforms to collaborate

Lack of continuity in sharing information

Preserve decades' worth of institutional knowledge
Tresorit's solution
End-to-end encryption for secure information sharing

Proactively reduces reputational risk

Hassle-free collaboration across chapters and members

Easy to implement and easy to use, even on the go